7 Reasons why you should use Crypto.com Exchange
Crypto.com Exchange is different from Crypto.com App. If you are a casual crypto buyer, Crypto.com App might be enough. But if you trade large volume and would prefer placing limit orders, then you need Crypto.com Exchange.
In my previous post, I shared why you should use Crypto.com App. You should still get the App first, then sign up Exchange, because the 2 works well together (you can transfer between them instantly, without any charges).
This post I will share what's great about Exchange.
You can also watch this youtube video 🎥
1. Sign up bonus up to $50
You will need to sign up with a referral code. Feel free to use mine: f8276tkt8y
Then you have to stake 5,000 CRO to get $50. As of today, CRO is $0.40, so that means staking $2,000 to get $50. You can also stake 1,000 CRO to get $10.
Staked CRO also get a 10% interest!
2. Deposit bonus 2%, up to 500 CRO
You can get 2% bonus when you transfer crypto to your wallet on-chain within the first 30 days. To transfer on-chain, you can also transfer from another exchange to Crypto.com Exchange.
At $0.40, 500 CRO will be $200. To get 2%, you will have to deposit $10,000.
IMPORTANT: These CRO will be staked for 180 days automatically. In tip #2, you can earn $50 for staking 5,000 CRO, but that will NOT count this 2% bonus. So if you received these 500 CRO first, then you need to select Custom Amount and enter 5,000 (if not the system simply top up to 4,500). This is a lesson I learnt the hard way.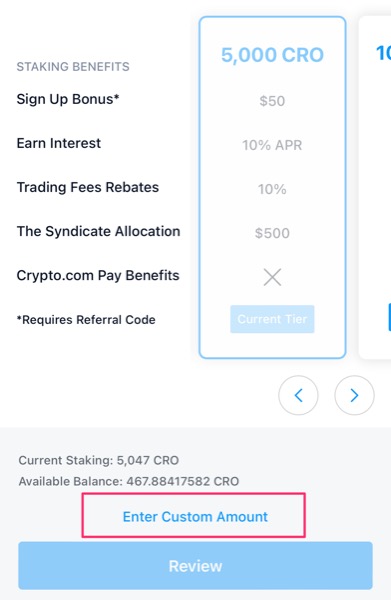 3. Lower trading fees rebate
Crypto.com Exchange fees are slightly lower than Crypto.com App. And it can get even lower the more you trade, and the more you stake.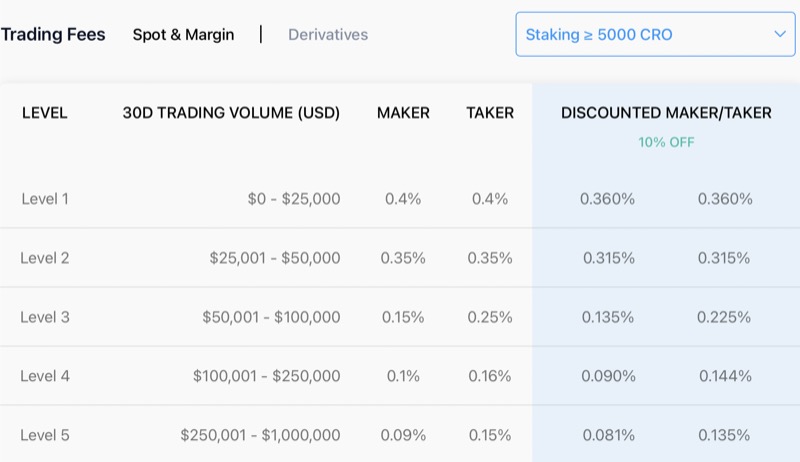 Maker is limit order, while taker is market order (taking liquidity out of the market).
4. Use limit order
You can set a price to buy (limit order), go to sleep, and the system will buy when the price is right.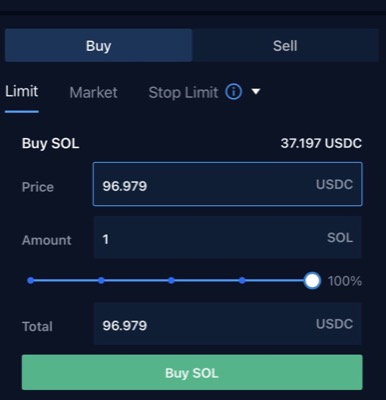 5. Nice charts
6. Soft Staking
You have to enable it. When enabled, all tokens will automatically earn staking rewards (if the token meet a minimum of ~$200).
It's a little extra. Good for traders who buy & sell frequently.
But I don't trade that often, hence I will transfer & stake in Crypto.com App instead, which has higher yields. For example, a flexible term of USDC will earn 6% on App, while soft staking on Exchange earns 4%.
The cool thing is that you can send tokens between App and Exchange easily, at no charges.
7. Referral Rewards
Lastly, if you refer your friend to sign up and they stake 5,000 CRO, you get $50.
If you like to be my friend, do sign up with my referral code f8276tkt8y 😆